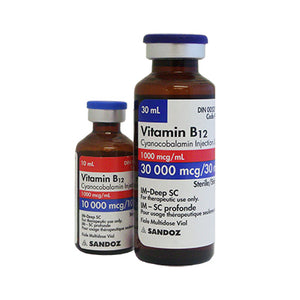 Vitamin B12 1000 mcg/mL 10cc
Vitamin B12 Injection 1000 mcg/mL (Cyanocobalamin) 10mL size. CYANOCOBALAMIN (Vitamin B12) is a synthetic form of vitamin B12. Naturally occurring vitamin B12 is found in fish, seafood, milk, egg yolk and fermented cheeses. Vitamin B12 is essential to the development of healthy blood cells, nerve cells, and proteins in the body and for the normal metabolism of fats and carbohydrates in the body.
Our suppliers carry many brands of this product and we cannot guarantee which brand is available at the time your order goes through.
---
---
We Also Recommend
---